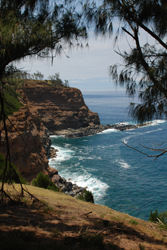 The cliffs of Kapa'a
North of us, over the Kohala mountain, are the towns of Hawi and Kapa'a. Both of these towns are collections of galleries, cafes and souvenir shops that have grown up along the highway. Today we followed an inviting gravel lined with trees to get to an area with a hiking trail. A sign at the top said, "Shoreline Access" and below "Hiking only- Dangerous cliffs". This was a good sign for us because no beach access and dangerous cliffs almost guarunteed no crowds.
The trail apparently isn't frequently used. The first part was a narrow space between chest high grass plants (sugar cane?). Then the trail became a mess of different pressed down grass areas where people went off in one direction or another to the edge of the cliff to watch the waves roll in and crash into the rocky beach far below, or towards th safer walking area of tall grass and spindly forests.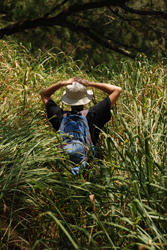 There is a trail here somewhere
The foot path we followed led over a barbed wire fence which had been stomped low enough to step over-- under a branch then onto a more managebly worn area. Sometimes it approached the edge of the cliffs, other times it took us through grasslands or next to gnarled trees blown by the wind so they leaned away from the sharp cliffs as if frightened by vertigo.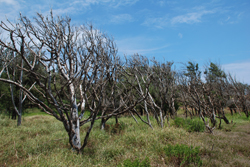 Windblown trees
The water below was a rich dark teal, not the paradisiacal turquiose of white beache and palm tree postcards. The water was clear enough to see the rocks and coral underneath. The sun was hot but the scragily trees offered some coolness as well as the ocean breeze. We walked down a steep hill into a gulley where people in a pickup truck had driven in and were setting up for a picnic.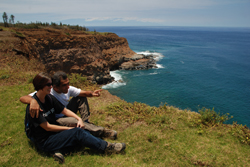 Taking a break
We walked along and through fences until we came to a place, strangely littered with rusting metal engines and machinery. At the edge of the cliff, it looked like there had been a building but all that was left now were pieces of rusted metal and concrete sticking above the grass.

Farther down the area became a graveyard for car engines which lay scattered with grass and yellow and white flowers growing up around them. We wondered if it was the remains of a sugar refinery or loading area-- or a place where people took stolen car parts to scavange. The Kohala area had once been all sugar plantations. However, now all the plantations are gone and the sugar cane is treated like a weed. We all wonder about this since, if the plantations were revived, Hawaii could produce all its own fuel in the form of ethanol.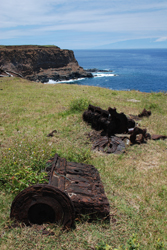 Machinery graveyard
We reached another fence. By this time we'd walked along the coast far enough North to have a view of Maui in the distance like a sleeping giant under a blanket of clouds.
Drum